Rainbow Bridge
♥ Grieve not,
Neither think of me with tears.
For I have but gone before
To lead the way.
T'was Heaven here with you. ♥
BIS BVIS Ch.Maxcell's Only The Lonely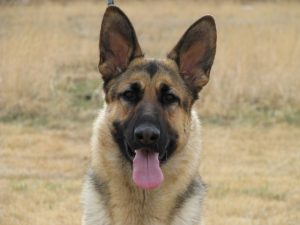 Rosie left us on May 11 2018 , just 2 months shy of her 11th birthday. She was a simgleton puppy out of Odie, and half brother to Cooper .We will miss her strong presence, and her loving nature. She won her Best in Show at the age of 10 years. Love you Rosie girl. You are now with Cooper and you mom Odie. … run free beautiful, see you at the bridge.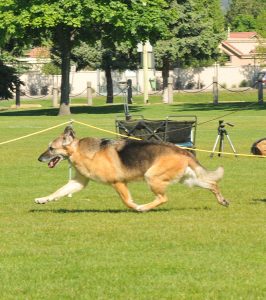 *******************************************************
Ch.Maxcell's Odessa KBrook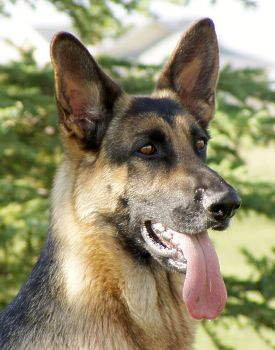 Odie crossed the rainbow bridge in February 2010 at the age of 11 years and took a big piece of our hearts with her. She was one the the most confident,intelligent and fearless shepherds it has been my privilege to have bred, owned and loved. She was Brier's first daughter and she was our very first home bred champion. She was the boss of the house from the time she was born to the time she left us. Never one to bark needlessly, when Odie voiced an opinion, all the other dogs listened, and did as they were told! Odie also made her mark as a producer by giving us Cooper and Rosie. She loved her babies with all her heart, but she loved us more. We miss her, so very much…
*******************************************************
Cedar Canyon's Sweet Brier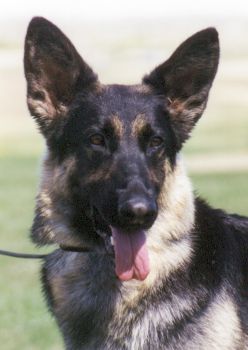 Brier came to us from Alice Likens (Clayfield GSD) and Joann Hess (Cedar Canyon GSD). We are eternally grateful for the trust these ladies placed in obtaining Brier to be our foundation bitch here at Maxcell. She was a loving , beautiful lady that came to us at 11 months of age, with a BPISS win already under her belt. Although she decided once she was with us that she preferred be the number one pet and momma dog to being in the show ring, we were fine with that. She was an excellent mother, and a wonderful producer giving us two litters, which included the next mom in line, Odie. She was a quirky, sweet dog with a great sense of humor, and a strong instinct to look after her kids and her people. We will always remember and miss her.
*******************************************************
Tia Maria of Covy-Tuckerhill CD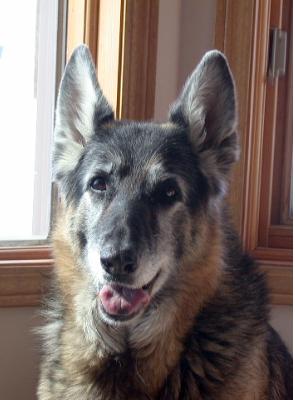 Tia came to us from Covy-Tuckerhill kennels and was intended to be our foundation bitch. Although this was not possible, Tia shared our lives for ten wonderful years, completing her CD title in three straight trials. She was the wild "puppy from hell" who grew into one of the most gracious ladies it has been my privilege to know and love. She mothered each and every puppy born here. We still feel her loss.
*******************************************************
Abbey-OTCh.Maxcell's Alexis CD,CDX,UD
Brenna-Ch.&OTCh.Gemridge's Brenna CD,CDX,UD,TT
Tecklepen's Chocolate Ripple CD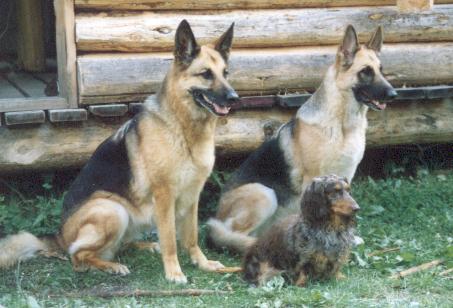 These girls were all owner trained and handled to all titles, and Abbey was bred by us as well! The obedience ring was where I started my journey in the show world with the German Shepherd Breed. These two girls were two of my greatest accomplishments…and I still think about them and still miss them.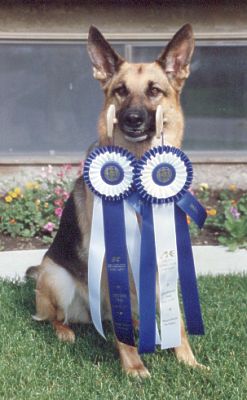 ..and so many more. We miss them all and will see them again when we are ready to cross the bridge, and we shall never be apart again….