About Us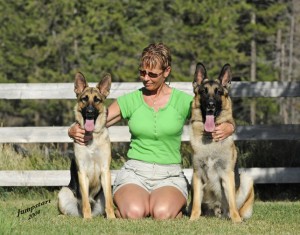 Maxcell German Shepherds was born in Calgary, Alberta in 1985. We are now located 30 minutes south of the city.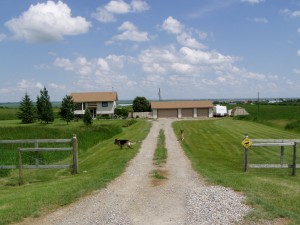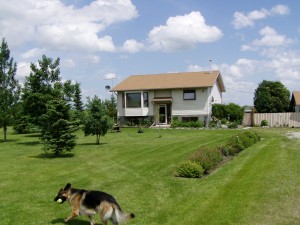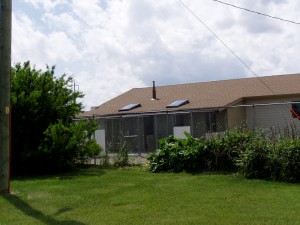 I purchased my first German Shepherd in 1978 and fell in love with the dog in particular and breed as a whole. My dogs and I have since competed in all levels of obedience and in the conformation ring. We have earned numerous titles over the years including two Obedience Trial Championships, all owner trained and handled. One of these dogs also became Dual Champion. We have also worked in Schutzhund, flyball, agility and herding. Although our focus has shifted to the conformation ring in recent years, we have never lost sight of the working ability of the German Shepherd Dog. We strive to produce a dog with the correct structure and temperament capable of competing in any ring or performing any duty.
Here at home, our dogs are house dogs and companions, before they are show dogs. They live with us as family members. They also have access to the ultimate "dog park", as our ten acres is totally fenced, private, ,safe and clean. All our puppy owners have a standing invitation to this wonderful exercise area.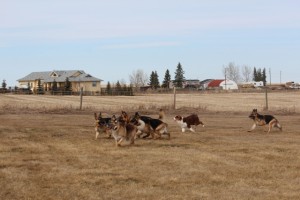 Our puppies are born and raised in the house and underfoot. They grow up accustomed to all the sights, sounds and situations encountered in a home, and although we produce a very limited number of puppies, we are extremely proud of each and every one. We breed German Shepherds and only German Shepherds. They were our main focus 30 years ago, and still are today. We breed our dogs for sound minds in harmony with beautiful bodies, and the results speak for themselves.
We are life members of the Canadian Kennel Club. We are also members in good standing with the German Shepherd Dog Club of America, the German Shepherd Dog Club of Canada, German Shepherd Dog Club of Canada/Wildrose Branch and Calgary Associated Dog Fanciers.
Please feel free to call us at 403-652-1392 or e-mail us at

[email protected]