Cooper
MBIS MBISS MBVIS GCHEx. Maxcell's Alice Cooper, CGN
Canada's #1 GSD for 2009
September 11, 2005 – August 2,2015
OFA: GS-78206F29M-PI, GS-EL21608M29-PI, GS-DM1679/77M-PI
So this is where we part my friend, 
And you'll run on around the bend
Gone from sight, but not from mind.
New pleasures there, you'll surely find.
I will go on, I'll find the strength,
Life measures quality, not its length.
One long embrace before you leave,
Share one last look before I grieve .
There are others,that much is true.
But they be they, and they aren't you.
And I ,fair impartial, or so I thought
Will remember well all you have taught.
Your place I'll hold, you will be missed.
The fur I stroked, The nose I kissed. 
And as you journey to your final rest, take with you this
I LOVED YOU BEST…..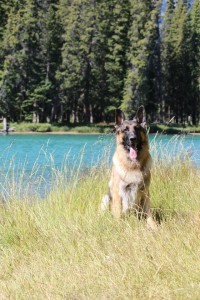 Cooper was the beating heart of Maxcell and of me…his loss will always be felt, and my life will never be the same. I will forever be grateful to have bred, owned, handled, loved and been loved by this exceptional dog. I held you when you took your first breath, and I held you close when you took your last. There will never be another like you. God Speed, Big Boy, I'll meet you at the bridge…..
Cooper was our second generation of home bred champions here at Maxcell. He was an outstanding example of the breed with correct, sound structure, powerful suspended movement, and ,most importantly, a very stable, sensible temperament.